Android Market 3.4.4 Apk
Size : 3.1 MB
Requires Android:2.2 +
Android Market Link - Visit
Developer - Visit


v3.4.4 change log:
- Added free songs of the week;
- Designed for Google Music;
- New setting: Auto-update app;
- New setting: Update over Wi-Fi only;
- New setting: Auto-add shortcut;
- Smaller font;
- New app drawer icon;
- Microphone (voice command) button in search menu;
- Star rating chart on app page;
- Minor UI tweak.

New version Android Market, rolling out with new settings, and new icon.

The big change being reported here is improved user interface speed. This might not be immediately noticeable on faster phones but slower phones are sure to benefit greatly from it. It also renames the 'Auto-add shortcuts' option to 'Auto-add widgets' (although it still just adds shortcut icons) and adds any videos in the screenshot carousal instead of separately at the bottom.

You can get the new Market .apk here, root access is not required, but you'll need Unknown Sources enabled in the Settings -> Applications menu to install it.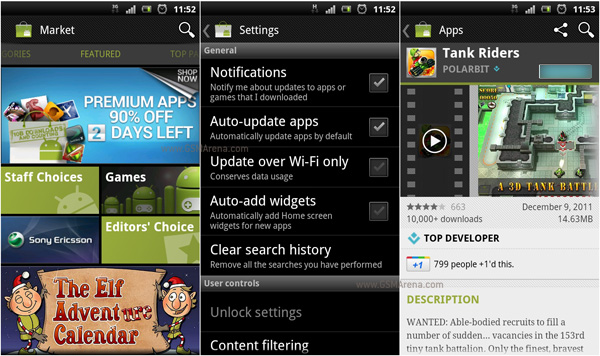 Note: If the Market starts force closing, just open Settings > Applications > Manage > Market, and clear data.

Download Or Download